Djup Tid

Co-curated with Joanna Nordin
Curator, Sörmlands Museum


Om tiden jorden funnits hade komprimerats till ett år, skulle homo sapiens dyka upp de sista skälvande minuterna den 31 december. Industrialismen skulle inträffa kl. 23.59.58.

Djup Tid
Konstutställningen
Djup Tid
drar paralleller mellan djupet och ytan, mellan det som hänt inuti jorden under hundratals miljoner år, med vår upplevelse just nu på dess yttersta skikt. Med begreppet djup tid (Deep Time) menar man den nästan otänkbara geologiska tidsaxel då jorden blivit till, då berg och djupa hav har tagit form.
Vi kan ganska lätt föreställa oss en människas livslängd, från födelse till mogen ålder. En genomsnittlig sten är ungefär 1,3 miljarder år gammal. Vad innebär det att föreställa sig livslängden för en sten? Kan vi sätta vår relation till jorden i nytt ljus genom att omförhandla oss själva i relation till dess svindlande tidsaspekter?
Fem konstnärer, Lina Selander och Oscar Mangione, Sam Smith, David Haines och Joyce Hinterding, från olika sidor av jorden (Australien och Sverige) sammanflätar i utställningen frågor om geologi, kultur och mänsklig historia. Verken visas tillsammans med objekt ur Sörmlands museums samlingar.
Utställningen är en del av projektet
Within Deep Time
curerat av Bronwyn Bailey Charteris och Nina Stromqvist. En version av utställningen har tidigare visats på Blue Mountains Cultural Centre, Katoomba, Australien. Organiserat och co-curerat på Sörmlands Museum av Joanna Nordin.
Visit the website
here
Installationview, stone from Sörmlands Museum collection.
Photo: Valdemar Asp
Installationview, Sam Smith,
Lithic Choreographies
, Sörmlands Museum.
Photo: Valdemar Asp
Installationview, Sörmlands Museum. Photo: Valdemar Asp
Installationview, Sörmlands Museum. Photo: Valdemar Asp
Installationview, Sörmlands Museum. Photo: Valdemar Asp
Installationview, Lina Selander & Oscar Mangione,
Ceremonin,
Sörmlands Museum. Photo: Valdemar Asp
Works:
Sam Smith

Lithic Choreographies
2018, Single channel 4K video, 51 minutes

Australian artist Sam Smith lived on Gotland for a period in 2018 and made the experimental film Lithic Choreographies. The film examines the intimate and often invisible relations of humans to stones and minerals. Working with locals to ground the film's investigations within the myriad communities of Gotland, Smith seeks to re-imagine our modes of engagement with and contributions to ecological assemblages.



---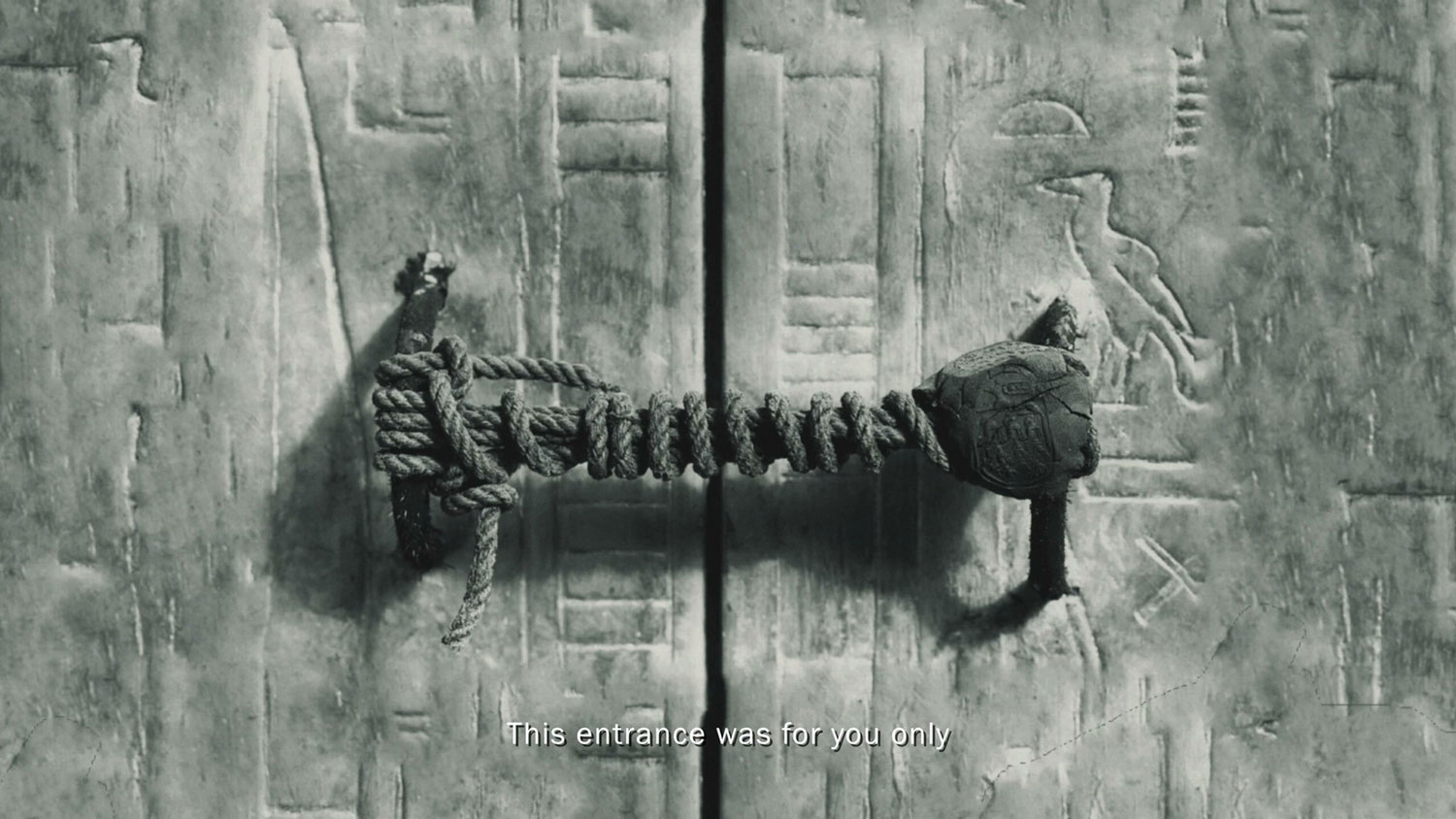 Lina Selander & Oscar Mangione

Ceremonin
2016, HD-video, 16:18 min, colour, sound

Sweden's subterranean is mythologised as a utopic site in the film Ceremonin, by Sweden's leading video artists Lina Selander and Oscar Mangione. The opening sequence shows one of Sweden's great 17th Century scientists, Olof Rudbeck, tear off a piece of earth's soft crust to reveal Sweden as the sunken Atlantis. From this first image we are taken on a journey in a similarly audacious manner, freed from reality's hold, in layer upon layer of image, text and sound, where abandoned cities, identities, histories and places appear and disappear.




---
David Haines and Joyce Hinterding

The Grounding Ungrounding
2019, HD-video, 13:48 min, colour, sound

Australian artist duo Haines and Hinterding present a new video work, The Grounding Ungrounding. The work is concerned with listening, observing, and speculating on the energetic and geoelectric nature of rock formations in The Blue Mountains World Heritage Region. In the spirit of pataphysics, the film follows the artists' field recording journeys above and below the earth, from rock pagodas, canyons, to a chondrite stony meteorite.





---
---
---
---
---
---
---
---
This project has been assisted by
the Australian Government through
the Australia Council for the Arts
its funding and advisory body.